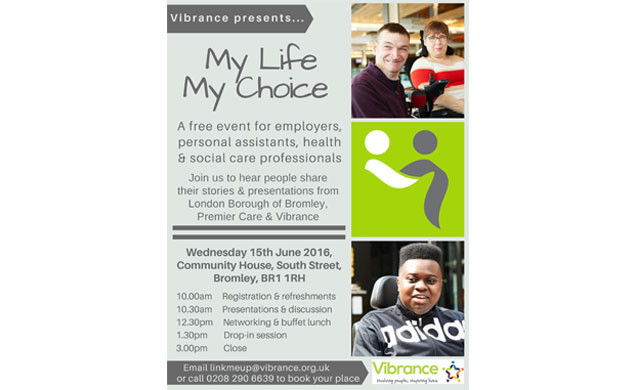 On Wednesday 15th June, we are hosting My Life, My Choice – a celebration of Direct Payments in Bromley.
This free event is for employers, personal assistants, health and social care professionals and will include people sharing their stories and presentations from London Borough of Bromley, Premier Care and Vibrance. We will also be showcasing the relaunch of our LinkMeUp website, which brings together all of our Self Directed Support Services. This has been co-produced with both employers and PAs.
The event is taking place at Community House, Bromley between 10.00am and 12.30pm, followed by a networking lunch and a drop in session in the afternoon.
To book your place please email linkmeup@vibrance.org.uk or call 0208 290 6639.
Further information can be found on the information leaflet.